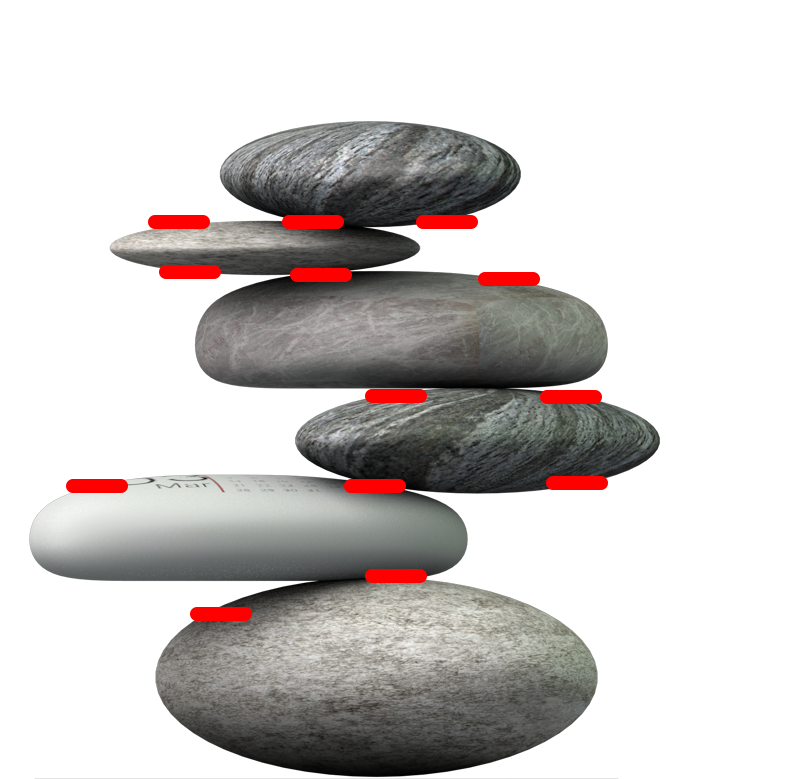 Calendar
This calendar is a small sculpture that visually balances on the edge of physics. All stones made of paper mache have a realistic texture and look like real ones. Textured stones are the main pyramid in the structure, and they can be assembled according to personal preferences, with a stone for the current month being added each month.
NFC Calendar
The calendar consists of tear-off cards for each day. There are 4 cards with an NFC tag in each month, which have a function to go to the application or website for paying credit, utility bills, mobile phone bills, or special offers page. Each tag can be styled for different purposes, allowing them to be stored for quick use of the bank's services. On the back of the card, there is a QR code for people who don't have NFC functionality. In addition to NFC, other cards have QR codes for accessing the bank's quotes and news website.
Smart Ring
This ring features 3 built-in NFC chips: a standard NFC chip, M1, and ID. M1 and ID support NFC keys, such as home intercoms, ID cards, and other devices that work like a metro pass. Each chip can be configured separately, and depending on the position of the ring on the finger, can control different devices. The smart ring can serve as a password manager, ID card or access pass storage, remote control, or device locking tool.
Motivational
assistant.
This type of keychain is designed as a case with 365 stickers
that can be easily removed from the body using a tab.
Each card carries a pleasant wish for the entire year.
Keychain
Ordinary branded keychains no longer attract attention and often remain unused after being given as gifts. This keychain combines all the services and features of the bank, and also contains an NFC chip that, when scanned, takes the client to VTB Leasing's motivational page. Motivation can be generated every day or once a week to achieve a monthly goal. The client can use this keychain in a smart home, for quick reminders or launching applications. When the chip (or QR code) is scanned, the client will see a congratulatory video and message.
Calendar Vault
A set of cardboard elements for self-assembly of a safe-calendar. Currently, there is a public interest in video tutorials on the topic of cardboard assembly of various technological and simple items. This option is made as a set of cardboard pieces to assemble a safe with a calendar and a congratulatory text. The safe can be opened by turning the handle and can be used to store small items at home or on a desk.